Canada Dry Club Soda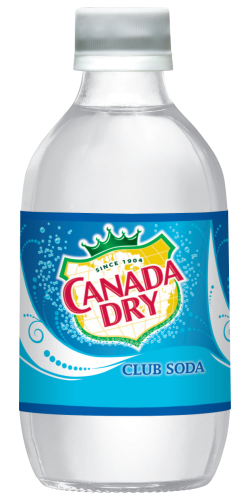 Canada Dry Club Soda
Nutrition per 10 fl oz
Nutrients
Amount
% Daily Value
Calories
0
Calories are the fuel you need every day. They are a measure of energy from the carbohydrates, fat and protein in the food you eat and beverages you drink.
Learn More
Total Fat
0g
Sodium
95mg
Total Carbohydrates
0g
Total Sugars
0g
Sugars are carbohydrates that occur naturally, such as those in juices, vegetables, grains and milk, and can be added to foods or beverages in the form of granulated or liquid sugar, corn syrup and honey, for example.
Learn More
Includes 0g Added Sugars
0%
Protein
0g
Products may not be available in all areas
Ingredients
CARBONATED WATER
All beverages are hydrating, and a variety of beverages including juice, regular and diet soft drinks, water and tea can contribute to total fluid intake to help meet the body's hydration needs.
Learn More
SODIUM BICARBONATE
Also known as baking soda. Sodium bicarbonate is principally used in beverages to adjust acidity levels.
SODIUM CITRATE
Used to regulate acidity in foods and beverages. Citrates are also present in a variety of fruits and vegetables.
POTASSIUM SULFATE
A multipurpose food ingredient often used as a flavoring ingredient in beverages.
DISODIUM PHOSPHATE
A common food ingredient used in beverages as a buffering agent to help maintain quality and stability.