Dr Pepper Cherry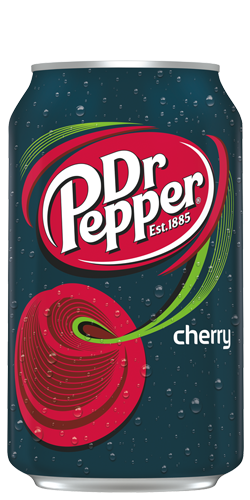 Dr Pepper Cherry
Nutrition per 12 fl oz
Nutrients
Amount
% Daily Value
Calories
160
Calories are the fuel you need every day. They are a measure of energy from the carbohydrates, fat and protein in the food you eat and beverages you drink.
Learn More
Total Fat
0g
Sodium
55mg
Total Carbohydrates
43g
Total Sugars
42g
Sugars are carbohydrates that occur naturally, such as those in juices, vegetables, grains and milk, and can be added to foods or beverages in the form of granulated or liquid sugar, corn syrup and honey, for example.
Learn More
Includes 42g Added Sugars
84%
Protein
0g
Products may not be available in all areas
Ingredients
CARBONATED WATER
All beverages are hydrating, and a variety of beverages including juice, regular and diet soft drinks, water and tea can contribute to total fluid intake to help meet the body's hydration needs.
Learn More
HIGH FRUCTOSE CORN SYRUP
High fructose corn syrup is a sweetener that combines two simple sugars — fructose and glucose — and is very similar in composition and sweetness to sucrose, or what is commonly known as regular sugar.
Learn More
Contains less than 2%:
CARAMEL COLOR
A brown or light brown color added to foods and beverages. It is produced commercially by heating sugar and other carbohydrates, usually from corn, under strictly controlled conditions.
Learn More
NATURAL AND ARTIFICIAL FLAVORS
A combination of natural and artificial flavors used to provide a specific and tasty flavor to the food or beverage.
SODIUM BENZOATE (PRESERVATIVE)
A common food ingredient that helps prevent spoilage.
CITRIC ACID
A food ingredient derived from starch that is widely used to add tart taste to foods and beverages and also used to adjust the acidity in beverages. It is present in citrus fruits such as oranges and lemons as well as certain other fruits.
PHOSPHORIC ACID
A food ingredient that functions to acidify some products.
CAFFEINE
Caffeine is naturally present in numerous plants and we have been consuming it safely for centuries.
Learn More
MALIC ACID
Occurs naturally in various fruits and vegetables, mainly apples and grapes, and provides a tart flavor to foods and beverages.
SODIUM PHOSPHATE
A common food ingredient used in beverages as a buffering agent to help maintain quality and stability.
RED 40
Colors help us ensure our products always appear attractive and consistent in appearance for our consumers.
Learn More