Mr & Mrs T Skinny Margarita Mix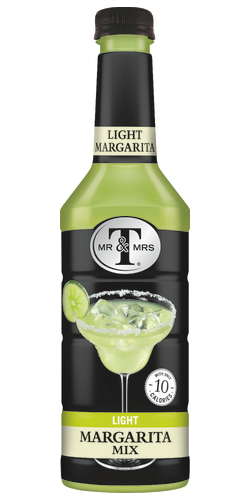 Mr & Mrs T Skinny Margarita Mix
Nutrition per 5 fl oz
Nutrients
Amount
% Daily Value
Calories
10
Calories are the fuel you need every day. They are a measure of energy from the carbohydrates, fat and protein in the food you eat and beverages you drink.
Learn More
Total Fat
0g
Sodium
115mg
Total Carbohydrates
4g
Total Sugars
2g
Sugars are carbohydrates that occur naturally, such as those in juices, vegetables, grains and milk, and can be added to foods or beverages in the form of granulated or liquid sugar, corn syrup and honey, for example.
Learn More
Includes 2g Added Sugars
4%
Protein
0g
Products may not be available in all areas
More Info
Contains no caffeine
Gluten free
Allergens & Sensitivities
Sulfites
Sulfites are a group of sulfur-based compounds that may occur naturally or may be added to beverages to prevent browning or spoilage. Some people may be sensitive to sulfites. For all of our products containing 10 ppm or more of sulfites, the presence will be highlighted on the product label.
Compare products
Customer Reports
Ingredients
WATER
All beverages are hydrating, and a variety of beverages including juice, regular and diet soft drinks, water and tea can contribute to total fluid intake to help meet the body's hydration needs.
Learn More
CANE SUGAR
A nutritive sweetener that is derived from sugar cane.
ERYTHRITOL
Erythritol is a unique carbohydrate that adds sweetness to a food or beverage but contains fewer calories than sugar.
Learn More
CITRIC ACID
A food ingredient derived from starch that is widely used to add tart taste to foods and beverages and also used to adjust the acidity in beverages. It is present in citrus fruits such as oranges and lemons as well as certain other fruits.
SODIUM CITRATE
Used to regulate acidity in foods and beverages. Citrates are also present in a variety of fruits and vegetables.
MALIC ACID
Occurs naturally in various fruits and vegetables, mainly apples and grapes, and provides a tart flavor to foods and beverages.
SODIUM HEXAMETAPHOSPHATE
A food ingredient used to help to maintain the quality and stability of beverages.
AGAVE NECTAR
Derived from the agave plant, this sweetener is slightly sweeter than sugar and not quite as thick as honey.
ACACIA GUM
Derived from the acacia tree, this food ingredient is used as an emulsifier to help prevent flavor separation in beverages.
CELLULOSE GUM
A food ingredient used in food and beverages as a thickener and stabilizer to provide a pleasant texture to some products.
POTASSIUM SORBATE (PRESERVATIVE)
The potassium salt of sorbic acid. Potassium sorbate is used to help inhibit microbial growth and is used in conjunction with sodium or potassium benzoate.
NATURAL AND ARTIFICIAL FLAVORS
A combination of natural and artificial flavors used to provide a specific and tasty flavor to the food or beverage.
POLYSORBATE 60
An emulsifier in foods and beverages, this food ingredient helps to hold flavor oils in solution to maintain product quality.
ESTER GUM
Derived from tree rosin and combined with glycerol, it is a food ingredient that functions as an emulsifier by helping prevent flavor separation within beverages and provides a cloudy appearance.
SUCRALOSE
Sucralose is a low-calorie sweetener used to add sweetness to foods and beverages without adding calories.
ACESULFAME POTASSIUM
Acesulfame potassium (Ace-K) is a low-calorie sweetener used to add sweetness to foods and beverages without adding calories.
Learn More
SODIUM METABISULFITE (PRESERVATIVE)
A common food ingredient that helps prevent spoilage and protect color.
YELLOW 5
Colors help us ensure our products always appear attractive and consistent in appearance for our consumers.
Learn More
BLUE 1
Colors help us ensure our products always appear attractive and consistent in appearance for our consumers.
Learn More