Snapple Peach Tea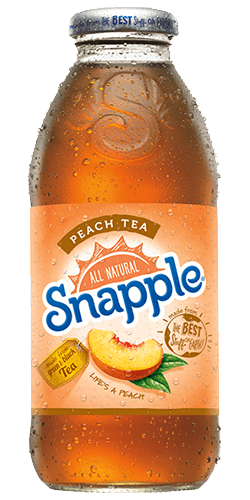 Snapple Peach Tea
Nutrition per 16 fl oz
Nutrients
Amount
% Daily Value
Calories
160
Calories are the fuel you need every day. They are a measure of energy from the carbohydrates, fat and protein in the food you eat and beverages you drink.
Learn More
Total Fat
0g
Sodium
10mg
Total Carbohydrates
40g
Total Sugars
40g
Sugars are carbohydrates that occur naturally, such as those in juices, vegetables, grains and milk, and can be added to foods or beverages in the form of granulated or liquid sugar, corn syrup and honey, for example.
Learn More
Includes 40g Added Sugars
79%
Protein
0g
** Caffeine is naturally occurring and actual amounts may vary.
Products may not be available in all areas
Ingredients
FILTERED WATER
All beverages are hydrating, and a variety of beverages including juice, regular and diet soft drinks, water and tea can contribute to total fluid intake to help meet the body's hydration needs.
Learn More
SUGAR
Sugar is a sweetener derived from sugar cane or sugar beet.
CITRIC ACID
A food ingredient derived from starch that is widely used to add tart taste to foods and beverages and also used to adjust the acidity in beverages. It is present in citrus fruits such as oranges and lemons as well as certain other fruits.
TEA
The beverage derived from the leaf of the Camellia sinensis plant.
NATURAL FLAVORS
Naturally occurring flavors from substances such as spices, fruits, vegetables, yeast, herbs, bark, bud, root, leaf, similar plant material or other suitable materials whose significant function in food is flavoring.