Mistic Lotta Colada Juice Drink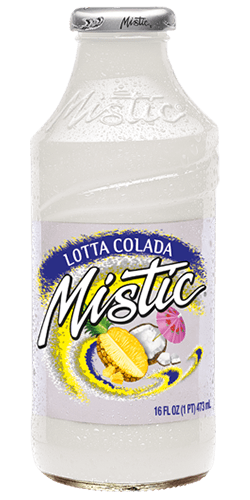 Mistic Lotta Colada Juice Drink
Nutrition per 16 fl oz
Nutrients
Amount
% Daily Value
Calories
260
Calories are the fuel you need every day. They are a measure of energy from the carbohydrates, fat and protein in the food you eat and beverages you drink.
Learn More
Total Fat
0.5g
Sodium
55mg
Total Carbohydrates
66g
Total Sugars
64g
Sugars are carbohydrates that occur naturally, such as those in juices, vegetables, grains and milk, and can be added to foods or beverages in the form of granulated or liquid sugar, corn syrup and honey, for example.
Learn More
Includes 64g Added Sugars
127%
Protein
0g
Potassium
80mg
Products may not be available in all areas
More Info
Contains no caffeine
Contains 1% juice
Gluten free
Allergens & Sensitivities
Milk
Includes foods and beverages containing milk or ingredient derived from milk such as such as casein, caseinates, whey, whey protein concentrates, nonfat dry milk, milk solids, casein hydrolysates and whey hydrolysates.
Tree nuts
There are a broad range of nuts under the umbrella of tree nuts including: almond, beech nut, brazil nut, cashew, chestnut, coconut, filbert (hazelnut), ginko nut, hickory nut, lichee nut, macadamia nut, pecan, pine (pinon) nut, pistachio, sheanut, walnut.
Compare products
Customer Reports
Fountain Nutrition
Ingredients
FILTERED WATER
All beverages are hydrating, and a variety of beverages including juice, regular and diet soft drinks, water and tea can contribute to total fluid intake to help meet the body's hydration needs.
Learn More
HIGH FRUCTOSE CORN SYRUP
High fructose corn syrup is a sweetener that combines two simple sugars — fructose and glucose — and is very similar in composition and sweetness to sucrose, or what is commonly known as regular sugar.
Learn More
NONFAT MILK
Produced by the removal of milkfat from whole milk.
CREAM
The higher-butterfat layer skimmed from the top of milk before homogenization.
CITRIC ACID
A food ingredient derived from starch that is widely used to add tart taste to foods and beverages and also used to adjust the acidity in beverages. It is present in citrus fruits such as oranges and lemons as well as certain other fruits.
PINEAPPLE JUICE CONCENTRATE
The liquid that is contained within pineapples. Physical processes such as pressing, crushing or squeezing are applied to the fruit to express the natural juices. The juice is concentrated by removing some of the water. Sometimes the juice is filtered, or clarified, to make it clear.
PECTIN
A complex carbohydrate that is present in plants. Pectin may be used to thicken and stabilize juice, juice drinks and other beverages.
POTASSIUM CITRATE
A food ingredient used to regulate acidity in foods and beverages and may be used instead of sodium citrate in reduced sodium foods and beverages. Citrates are present in a variety of fruits and vegetables.
NATURAL AND ARTIFICIAL FLAVORS
A combination of natural and artificial flavors used to provide a specific and tasty flavor to the food or beverage.