Mott's for Tots Fruit Punch Juice Drink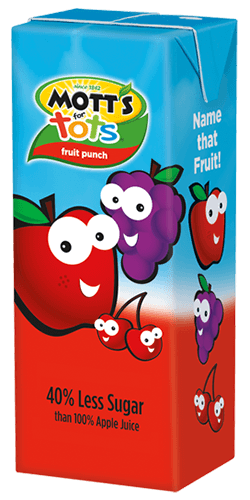 Mott's for Tots Fruit Punch Juice Drink
Nutrition per 6.75 fl oz
Nutrients
Amount
% Daily Value
Calories
50
Calories are the fuel you need every day. They are a measure of energy from the carbohydrates, fat and protein in the food you eat and beverages you drink.
Learn More
Total Fat
0g
Sodium
5mg
Total Carbohydrates
13g
Total Sugars
13g
Sugars are carbohydrates that occur naturally, such as those in juices, vegetables, grains and milk, and can be added to foods or beverages in the form of granulated or liquid sugar, corn syrup and honey, for example.
Learn More
Includes 0g Added Sugars
0%
Protein
0g
Iron
0.4mg
Potassium
120mg
Vitamin A
90mcg
Vitamin C
30mg
Vitamin E
1.5mg
Products may not be available in all areas
Ingredients
PURIFIED WATER
Water produced through distillation, deionization, reverse osmosis or other suitable processes.
Learn More
APPLE, GRAPE AND CHERRY JUICE CONCENTRATES
The liquid that is contained within fruits. Physical processes such as pressing, crushing or squeezing are applied to the fruit to express their natural juices. The juice is concentrated by removing some of the water. Sometimes the juice is filtered, or clarified, to make it clear.
ASCORBIC ACID (VITAMIN C)
Ascorbic acid is found in fruits and vegetables and added to foods and beverages as a fortificant. Vitamin C functions as an antioxidant.
NATURAL FLAVORS
Naturally occurring flavors from substances such as spices, fruits, vegetables, yeast, herbs, bark, bud, root, leaf, similar plant material or other suitable materials whose significant function in food is flavoring.
ALPHA TOCOPHERYL ACETATE (VITAMIN E)
Alpha Tocopheryl Acetate is a form of Vitamin E that functions as an antioxidant. Vitamin E is found in oils such as corn, soybean, sunflower, wheat germ as well as some nuts and vegetables.
VITAMIN A PALMITATE
Vitamin A Palmitate is a form of Vitamin A that functions as a nutrient.